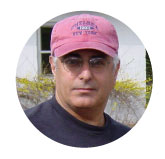 om Starace graduated from Cooper Union, and has been lucky enough to enjoy a long and varied career as a designer and illustrator in New York City. In the past few decades he's worked for almost all major book publishers, including a few that aren't even around anymore. His illustrations, both black-and-white and color, have appeared in newspapers, magazines, print ads, posters, and various other printed matter. He was a resident designer for a couple of theater groups, and he produced a line of successful greeting cards. More recently, as executive art director at HarperCollins Children's Books he's had the good fortune to work with many top authors and illustrators, and, along with a staff of fantastic designers, to direct a diverse list of picture books, novelty books, early readers, and board books. He's illustrated six picture books (see links).
A note on technique: The silhoutte pieces were done with cut paper or film. The children's books were painted on wood that was then cut up and reassembled 3-dimentionally. The wood works are larger pieces painted on wood cut with a scroll saw or jigsaw. The recent Fisher-Price books were done as vector art.

Thanks so much for visiting
this website!




tom@tomstarace.com
or tomstarace@yahoo.com
917 273 9513
300 W. 55 St., Apt 7X,
New York, NY 10019